It's raining, it's pouring, and the kids are all screaming for something to do. Fear not, for INSPIRELLE is chock full of ideas for indoor activities in Paris. From creative workshops to stomping indoor playgrounds, we know where you can go to tame your wild bambinos!
1. DIVE INTO AN AQUARIUM-CUM-CINEMA
Escape the rain and plunge into the water world at the Aquarium de Paris located in the Palais de Chaillot at Place de Trocadero. Its darkly-lit rooms create the perfect ambiance for a mysterious tour of the large, underwater tanks with more than 100,000 species including clown fish, puffers, sharks and stingrays. With two cinemas screening documentaries and cartoons, as well as live entertainment on weekends and holidays, there's plenty to keep you entertained for a couple hours.
5 Avenue Albert de Mun, 75016 Paris
Tel: +33 (0)1 40 69 23 23
---
2. DON YOUR BOWLING SHOES
Who doesn't like to bowl? There are several bowling alleys in Paris for great family fun, from the Bowling Mouffetard to Bowling Foch near the Champs Elysées or try La Quille's "mini" bowling lane off rue Oberkampf, or the child-friendly lanes at Front de Seine in the 15th arrondissement which has lightweight balls for little ones five years  and up.
Bowling Mouffetard: 73 Rue Mouffetard, 75005 Paris
Tel: +33 (0)1 43 31 09 35
Bowling Foch: 2 Avenue Foch, 75016 Paris
Tel: +33 (0)1 45 00 00 13
Front de Seine: 44 Rue Emeriau, 75015 Paris,
Tel: +33 (0)1 45 75 35 37
Indy Bowling Paris: 6 Ave Porte de la Chapelle, 75018 Paris
Tel: +33 (0)1 40 35 07 11
---
3. MAGIC MAKERS: CODING FUN FOR KIDS
Master the computer instead of allowing the computer to control your child. Magic Makers teaches children from 8-years old and up to create their own apps and video games. Imagine making your Lego toy move with the help of Scratch software. Teenagers can design their own 3D games. There are multiple locations in Paris which offer weekly 1½ hour tutorials in French, as well as workshops during school breaks. Check Magic Makers' program for regular events and new workshops around the French capital.
Various locations, see WEBSITE
Tel: +33 (0) 6 27 31 06 23
---
4. CATCH A FILM AT BEAUGRENELLE
Rainy days are perfect for going to the cinema. Have you visited the Gaumont Pathé theatres at the new Beaugrenelle shopping center along the Seine River in the 15th arrondissement yet? Ten screens with high-tech sound, love seats for couples to snuggle up close, popcorn and champagne packages, and a jaw-dropping candy bar filled with assorted bonbons and flavored popcorn to keep everyone extra happy. If it's still pouring outside after the film, window shop and stay to eat in the food court with its international selection of family-style restaurants such as Panasia, Chipotle Mexican Grill, Quindici Italian cuisine and Noura Middle Eastern food.
Beaugrenelle Cinema: 12 Rue Linois, 75015 Paris
---
5. TAKE PRIDE IN MULTICULTURAL FRANCE
Here's a real cultural jewel for children and adults. Learn about the immigrants who helped build France over the past two centuries at the fascinating multicultural museum, Musée de l'Histoire et l'Immigration. Discover a large collection of photographs, documents and video that trace the history, culture and contributions of the many ethnic groups that make up France today. The museum is located in an exquisite Art Deco building, the Palais de la Porte d'Orée, built in 1931 for the International Colonial Exhibition in Paris. How appropriate that it's been transformed into a multicultural museum. INSPIRELLE recommends this museum for older children but younger kids can fully enjoy the tropical aquarium on the lower level.
293 Avenue Daumesnil, 75012 Paris
Tel: +33 (0)1 53 59 58 60
---
6. EXPLORE SCIENCE THROUGH KIDS' EYES
There are so many excellent children's workshops found in Paris museums. One of our perennial favorites is the Cité des Sciences et de l'Industrie a super science center designed to stimulate your child's mind. INSPIRELLE loves the two "Cités des Enfants", or children's cities, located on the main floor of the building in Parc de la Villette. Designed for 2-7 and 5-12 year olds, the "city" is an interactive space to teach tots from a young age to appreciate how our world works.
30 Avenue Corentin Cariou, 75019 Paris
Tel:+33 (0)1 40 05 80 00
---
7. COOK'N WITH CLASS
Does your child prefer experimenting in the kitchen? Sign up your budding chef, 7 to 12 years old, for workshops at Cook'n with Class to learn how to make classic French sweets such as chocolate fondants, jammy shortbread biscuits and chocolate mousse. Parents can take adult courses too. Impress your friends with homemade foie gras and wine and cheese pairing. And here's the icing on the cake: Cook n' with Class is one of the few schools in Paris that teach cooking in English. They'll even organize private family classes in the kitchen with a translator in Spanish, French, Italian or Chinese!
6 Rue Baudelique, 75018 Paris
Tel:+33 (0)1 42 57 22 84
---
8. BOUNCE OFF WALLS AT SPACE JUMP
Here's a place where you are encouraged to bounce off the walls. Space Jump, a huge, indoor trampoline park, is a paradise for anyone of any age who just wants to burn off some steam, and calories. There's a dodge ball zone, basketball zone, wall run and free space zones, as well as a wi-fi café upstairs for a drink and snack break. It's a popular birthday party venue for older kids, and Space Fitness classes for adults allow you to burn 1000 calories per session! Toddlers need to be supervised. Closed Mondays.

Zone commerciale de la Croix blanche, 25 Rue Clément Ader, 91700 Fleury-Mérogis
Tel: +33(0)1 81 86 02 60  Website: www.spacejump.fr
---
9. FIND A NOOK AT THE AMERICAN LIBRARY
The American Library in Paris is a gem of a place for children of all ages. For over 20 years, the library has been a focal point for the English-speaking community, opening its doors to share its collection of 120,000 books with everyone. The Library has an active program and a dedicated staff to ensure toddlers fall in love with picture books and children enjoy reading groups. Teenagers can brainstorm in writing workshops and adults can listen to the latest authors talk about their books. Everyone should join and have a library card!
10 Rue du Général Camou, 75007 Paris
Tel: +33 (0)1 53 59 12 60
(Update: the American Library is closed for renovation between May 15-August 23, 2016, but events will take place off site throughout summer. Visit their website for details: http://www.americanlibraryinparis.org/
---
10. AMAZE YOURSELF WITH MAGIC
Stop by the Musée de la Magie for a tour from a wizard or one of the museum's favorite magic shows. Located in the Marais, this quirky museum is full of amazing artifacts illustrating the history and magic of the art of illusion. Examine antique magicians' props and gadgets, learn about stunning optical illusions and how to stump your friends with a slight of hand.
11 Rue Saint-Paul, 75004 Paris
Tel: +33 (0)1 42 72 13 26
---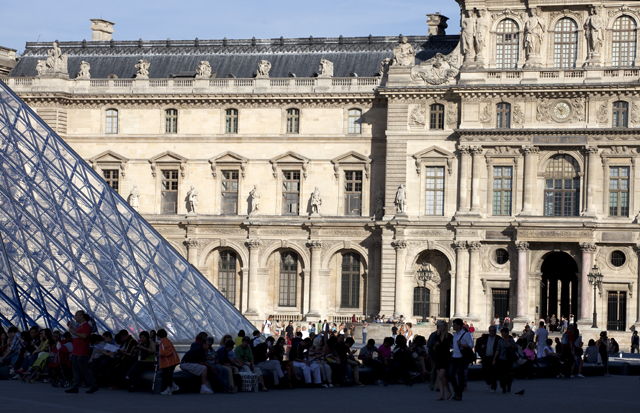 11. GO ON A TREASURE HUNT
Kids of all ages (and adults!) will love THATLou's treasure hunt at the Louvre. American expat Daisy de Plume has designed a themed itinerary filled with intriguing clues, which makes discovering the artwork in Paris' most famous museum great fun! Young minds are challenged through questions, activities and maps to learn about cultural treasures and historical civilizations. You can also sign up for THATd'or to discover the Musée d'Orsay!
Louvre Museum, or Musée D'Orsay
Bookings via website at: www.thatlou.com
---
12. JUMP AROUND AT ACROCHATS
Here's a place where you can let your kids run wild, jump and climb to their hearts' content without attracting nasty glares from people around you.
Acrochats
runs two indoor adventure playgrounds just outside of Paris, with climbing frames, ball pits and obstacles for kids up to 12 years old. Privatize their themed cabins for a birthday party and sit back and relax with a book in their café complete with wifi.
Acrochats Thiais Village
CC Thiais Village,

 3 Rue de la Résistance 94320 Thiais
Acrochats Plaisir
Tel:
 +33 (0)1 34 89 98 73
---
13. DELVE INTO A DOLL MUSEUM
Make a dream come true for little girls by taking them to the Musée de la Poupée in the Marais. Imagine finding over 500 of the finest French dolls, from 1800 to today, on display in their best finery and accessories! Admire the furnished miniature dollhouses. From baby dolls to Barbie, learn about the evolution of the doll and understand why she is your little girl's eternal best friend.
7 Impasse Berthaud, 75003 Paris
Tel: +33 (0)1 42 72 73 11
---
14. LEARN ABOUT CAROUSEL ARTS
One of the best kept secrets in town is the enchanting Musée des Arts Forains, or Museum of Carnival Arts. Discover a stunning collection of beautiful, old amusement park rides and other carnival-related attractions in a magical space hidden in Bercy Village, southeast Paris. The gorgeous craft and workmanship of these carousels will astound you.
53 Avenue des Terroirs de France, 75012 Paris
Tel : +33 (0)1 43 40 16 22
---
15. CHECK OUT THE CIRCUS
Is the circus in town? INSPIRELLE loves the traditional circus ring at Cirque d'Hiver. Watch lions and tigers, elephants and clowns in an authentic, round, high-top arena. The Bouglione Circus has been dazzling audiences with its shows for over 170 years with new themes each season.
110 Rue Amelot, 75011 Paris
Tel: +33 (0)1 47 00 28 81