Parisians love their city during the month of August. Why? – because either they've left the hot, urban capital for the comforts of "la campagne" (French countryside), or because they have the City of Light all to themselves. If you're lucky to be living in or visiting Paris in August, here are five reasons it's absolutely the best time to visit the world's most popular tourist destination.
1. More tourists but less crowds
There are 46 million visitors to Paris every year with many arriving during the peak summer tourist season. Yet, during the month of August, people IN Paris find it easier to get around because many locals are OUT of the city. With many taking their work and school breaks all at the same traditional time, this means fewer lineups, less traffic and more space around the iconic tourist sites and neighborhood streets!
This is the ideal time to flâner or saunter leisurely to all your favorite haunts.
"To wander is human; to saunter is Parisian."

– Victor Hugo, Les Misérables
2. Cars get a break in August
First, you can zip across town in record time during August. Seriously, travel time by car is easily cut by half. It gets better! You can find parking on most French streets because the cars have packed up and left for les provinces. No more driving in circles or creating your own parking spaces. Just pull up, park the car and enjoy your evening.
Attention: Parking is NO longer free in Paris during the daytime in the month of August. The city removed this privilege in 2015; cars only get a break after 8 pm, on Sundays and holidays. Remember to get a parking ticket or you will be slapped with a fine or find your vehicle towed away. (Retrieval of a towed car can cost up to a whopping 200 Euros.)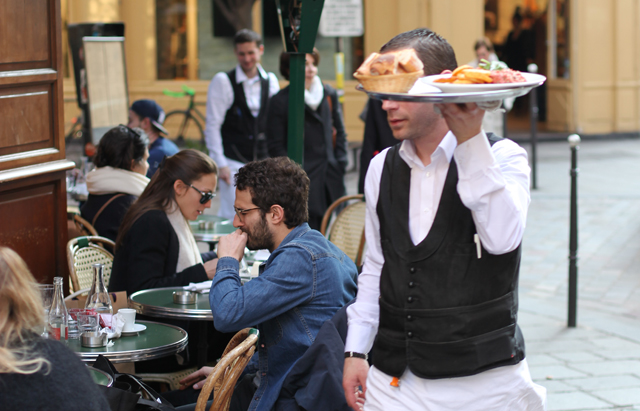 3. Paris remains open
Paris does not entirely shut down in August. While it may be true that many of the high-end gastronomical restaurants and artisanal boutiques close shop for a well-deserved break, most museums, tourist sites, restaurants as well as food and flea markets stay open to the public.
And what could be nicer than walking leisurely through an unfamiliar French neighborhood or trying a new local restaurant without fighting the crowds? Some Paris insiders will even tell you the service is more pleasant during this laid-back month — all the more reason to stay in town!
For a comprehensive list of which restaurants are open in Paris in August, check out Paris by Mouth's 2016 food calendar. Their culinary experts have curated the best eateries still serving throughout the summer.
4. Summer fun on Parisian streets
To keep the fun factor high during the sleepy month of August, the city has transformed the riverbanks along the Seine River into a free artificial beach for the public. Paris Plages runs until the beginning of September. And if the weekend nights are too hot and steamy for you, head towards the riverbanks with a picnic basket.
Cruise along the Quai near Port Saint Bernard and look out for the open-air dance arenas. You'll find serious dancers of all rhythms — Salsa, Tango, Hip-hop, Celtic — strutting their stuff into the wee hours. Or participate in the neighborhood summer cultural activities planned during the Paris Quartiers d'Été festival. Check out their daily August program and discover the different arrondissements in Paris hosting live entertainment, theater performances, workshops, and exhibits. There's no shortage of activities to keep you enjoying the capital during the month of August!
5. Paris sings in August 
INSPIRELLE has its eye on two great outdoor musical concerts, which are both easy to access. One is for classical music lovers and the other is for die-hard rock fans. Maybe you have a taste for both!
There's the Festival Classique au Vert from August 10 to September 1st in the Parc Floral de Paris in the 12th arrondissement. You'll be enchanted by the "Grands concerts" in the botanical gardens with orchestras and international artists playing classical music. You can also picnic in the park, attend vocal workshops and meet some of the artists. Access to the Parc Floral and all of the concerts is only 6 Euros.
For real rock n' rollers, the Rock en Seine annual festival is very popular amongst young people and features a number of iconic and up and coming artists, from Iggy Pop and Massive Attack to The Shins and The Temper Trap. It runs from August 26 to 28 in the Domaine Nationale de St Cloud. 3-day tickets cost 119 Euros, or purchase a single-day ticket for 49 Euros.