Paris is a museum lover's dream. When I first moved to the city, I had the idea that I could visit every one. But learning the region has some 200 (!!!) museums in total gradually made me lower my expectations. Still, I tried to visit at least one a week. The pursuit took me to neighborhoods I'd never visited and might otherwise never have occasion to see. I rode to the end of metro lines and took the regional rail out to Maisons Particuliers in the suburbs.
Smaller museums have bigger charm
Despite all the world-famous landmarks, like the Louvre and the d'Orsay, my preference has always been for the smaller museums. Often shaped by one person's sensibility, they have the atmospheric, sometimes lived-in, immersive feeling of stepping into someone's unusual home.
One of my favorite places growing up was the Isabella Stewart Gardner Museum in Boston. Built at the turn of the century, Gardner arranged her eclectic collection according to her unusual taste. The museum has classical sculpture, paintings by Renaissance artists but also her own contemporaries. The mansion is unique and beautiful.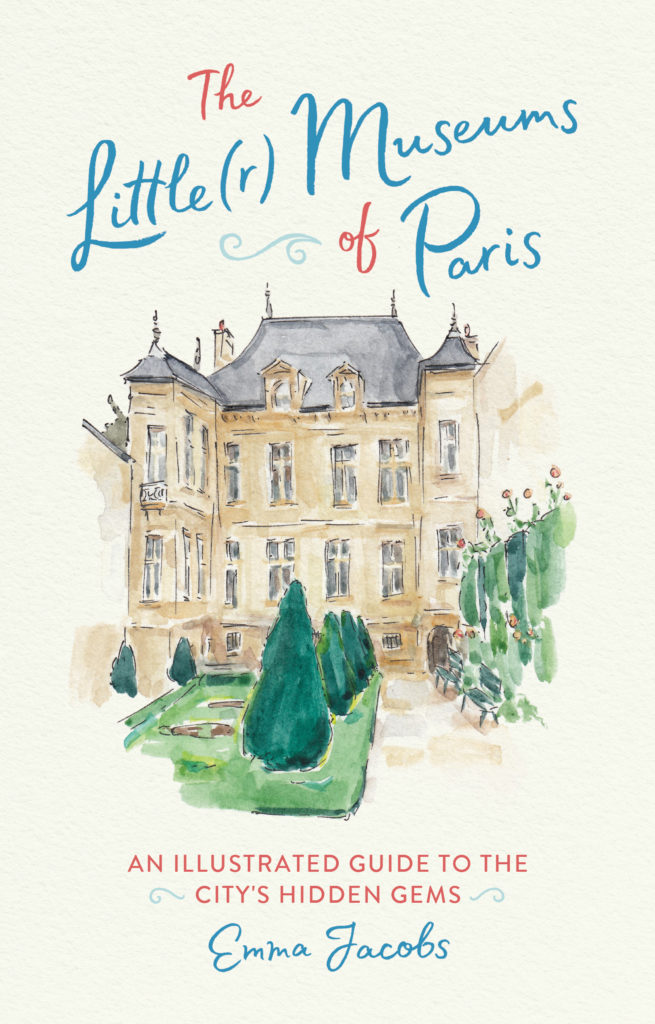 Eventually, my Paris hobby became a chapbook project, then a book project with a publisher. I had the chance to meet museum directors and artists and ask them all my questions. Now The Little(r) Museums of Paris is now available to order on Amazon or through Running Press, and in bookstores in the US and Europe by the end of June.
French women influence
During the research for the book, I found that most artists with their own dedicated museums were men, but fascinating and adventurous women played key roles in many institutions' origin stories.
I came across Gardner's name again when I read about her distant relationship with a forceful French collector who reminded me of her, Nélie Jacquemart. Jacquemart was a self-supporting society painter in the mid-19th century who became an art collector with similar tastes after her marriage to a banking heir. She and Gardner bid on at least one of the same paintings, but the two women never met.
Nélie Jacquemart gifted the Paris region two museums, with strict instructions that the objects remain arranged as she left them: The Musée Jacquemart-André in central Paris and the Abbaye de Chaalis, a domaine with a château and ruined abbey north of the city, now across the street from a Wild West-themed amusement park whose music wafts over the grounds.
Another compelling woman I encountered in my research was Dina Vierny, the final muse of French sculptor Aristide Maillol, who created the Fondation Dina Vierny-Musée Maillol in the 7th arrondissement. Her life story included episodes like smuggling Russian emigres out of France during World War II and getting caught by the Gestapo when visiting Paris to have lunch with Picasso.
Knowing the history of these extraordinary people made the rooms feel more lived in and made particular objects leap out in their crowded rooms.
Hidden Gems
Paris is lucky to have wonderful national collections in world-famous landmarks. But, to my mind, it's these small museums that make the city really sing. If you want to follow in my footsteps, here are five of my favorites to start with:
Musée de la Chasse et de la Nature
Attendance here has climbed steadily upwards in the last few years and the museum's director attributes most of that growth to word of mouth. The museum is hard to categorize but memorable once you have visited: part traditional, period house museum with a hunting theme, but with cleverly integrated works of modern art among the taxidermy and antique rifles. The animals intentionally seem to have the run of the place: a fox is curled up on an antique chair, a wolf emerges from under a table.
Where: 62 rue des Archives, 75003 Paris
When: Tues-Sun, 11am-6pm
The apartment of George Clemenceau looks virtually untouched from when the French politician lived here in the early twentieth century. Clemenceau was someone I hadn't known much about as a North American, though it turned out a Canadian businessman admirer had bought the building to prevent Clemenceau's eviction and named a mining town (now a ghost town) for him in Arizona. There's useful biography here as well as curiosities like Clemenceau's last reading material stacked on his bedroom desk and a portrait of the dog that he let loose to roam the neighborhood and catch hackney cabs home.
Where: 8 rue Benjamin Franklin, 75116 Paris
When: Tues-Sat, 2pm-5:30pm
The gallery filled with skeletons and fossils has aged charmingly. Specimens have their original hand-written labels. The halls get wonderful light and are a lovely place to sit and draw. The current building, with animal carvings and floral banisters, was built for the Universal Exhibition of 1900. I'm also a fan of the Dodo Manège, a colorful carousel of extinct and endangered species situated nearby. Really, I'm generally a fan of anything that takes me to the Jardin des Plantes, the large park and museum complex. I always make sure to walk through the rose and fossil garden outside the nearby Geology Gallery whenever I end up there.
Where: 57 rue Cuvier, 75005 Paris
When: Mon-Sun, 10am-6pm
This one-room museum in Pigalle is packed with historic sound equipment, everything from a complicated Swiss mechanical music box from 1880 to the Fisher-Price cassette player sold when I was a kid. The highlight is the colorful collection of early to mid-twentieth century players. The Phono Museum does something that would be super verboten at a more institutional history museum: it runs the antique phonographs and gramophones in its collection as part of visitors' tours, even though the wax cylinders and discs they play degrade with use. The museum also hosts concerts throughout the year.
Where: 53 Boulevard de Rochechouart, 75009 Paris
When: Fri & Sun 10am-6pm (other days by appointment only)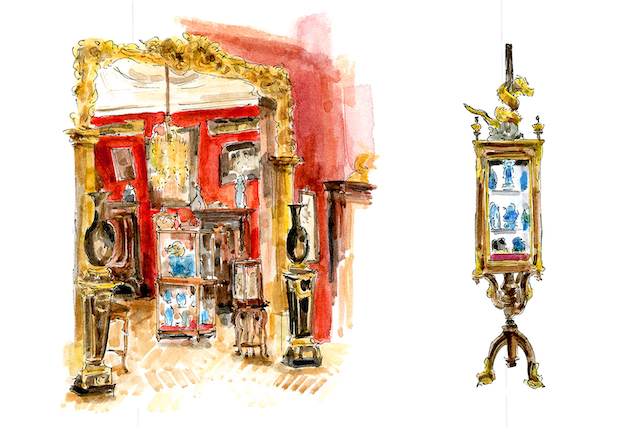 The Musee Ennery is actually an annex of the Musée national des arts asiatiques – Guimet, located about a fifteen-minute walk away. It's only open for tours on Saturdays that require a reservation, which gives it a special, secret feel. Inside, it's a jewel box of the Ennerys' personal collection of Asian art and objects – not all necessarily valuable or rare. The couple, a playwright and an actress, didn't travel but bought things they liked from Parisian department stores, among other sources. Clémence d'Ennery had the display cases custom-built in French Louis XIV and Japanese styles.
Where: 59 avenue Foch, 75116 Paris
When: Saturdays at 11:30, by reservation only
Do you have a favorite small museum in Paris? Share your picks in the comments below!