It's the biggest and longest-running bazaar in Paris, organized by the city's American community. The 42nd annual AAWE Bazaar and new Winter Festival is a mind-blowing one-day rummage sale and holiday festival spread out over three floors of the American Church, which is located along the Seine River in the 7th arrondissement.
If you have never attended this community event organized by American women, you're in for a surprise. Not only can you pick up early Christmas presents at a bargain, you'll also be contributing to the circular economy and supporting women's and children's charities. It's impossible to walk out empty-handed!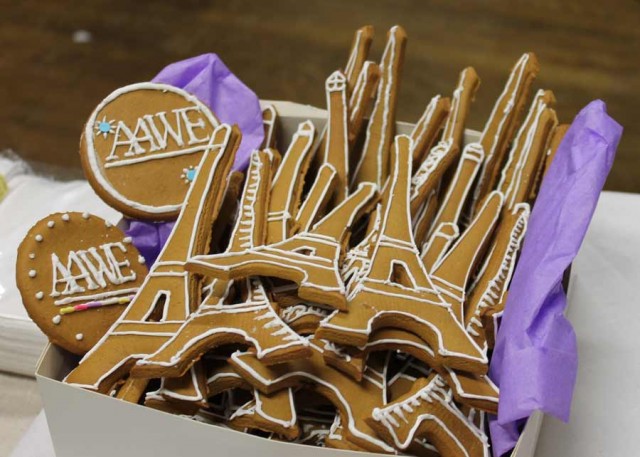 This year, the extravaganza is scheduled for Saturday, December 1, 2018, from 10 am to 6 pm. The day before the big event, an army of 200 plus volunteers will receive a truckload filled with bags and boxes stuffed with generous donations collected at a storage depot outside of Paris. The call to clean-out-your-closets-and-give dates back to a time when braderies did not exist in Paris.
Bargains books, clothes, toys and Santa!
There are rows of racks and tables filled with gently-used designer clothing and accessories. Almost an entire room is filled with second hand English books to choose from. Bookworms can take home several classics or bestsellers for the price of one new book.
New this year will be a special room dedicated to holiday crafts and games for children, including cookie decorating, reindeer games, and… a special visit and photos with Santa Claus (be sure to reserve your spot online in advance!) Parents will love the fact that kids can fill up a bag full of toys and games which other kids have loved and outgrown for the price of one new toy.
Handicrafts and Home Baked Goodies
It's hard to resist the original handicrafts on display, especially when you learn who made them. There's a dedicated group of women who meet almost every week throughout the year to lovingly hand make the Christmas cards, decorations, tea cozies and placemats.
Throughout the day, an American Café will also be serving up chili, hot dogs, salads and a scrumptious selection of home-cooked American treats — all lovingly made in AAWE volunteers' kitchens. So, if you're craving carrot cake, brownies, pecan pies or peanut butter cookies, this is the place to be!
A Community Affair
This is a community gathering open to the public. The event has earned the backing of solid sponsors who provide attractive prizes for the Tombola. Proceeds from the Tombola help fund the Charitable Donations coffer which is used to make donations to local, national and international charities with specific emphasis on women's and children's causes. Over the years, AAWE has raised more than 100 000 Euros for French and global charities supporting women and children. And, when the bazaar is over, all of the remaining clothing, products and food are redistributed to local and overseas charitable associations.
So, when you buy something at the bazaar you're not only contributing to the circular economy, but also to a greater good. Now isn't that a wonderful way to start getting into the holiday spirit?