It's a quintessential American tradition for families and friends to gather around a dinner table on the fourth Thursday of November to savor a roast turkey filled with tasty stuffing. Thanksgiving is an annual holiday that is celebrated by many American expats in France with friends who are lucky enough to be invited to this fall feast.
In the past, just finding that fresh elusive turkey to roast made the dinner all the more special. Today, not only can hosts buy a decent plump bird, the international community in Paris also has a wide selection of restaurants to choose from for a good old-fashioned turkey dinner with all the fixings.
Where to buy your turkey
Call them now or email to order (up until the day before):
Delicious, juicy, farm-bred turkeys (you can ask them to roast it for you, too – comes with stuffing and the roasting juices)
Pecan and pumpkin pies, carrot cakes and cheesecakes
Large selection of Thanksgiving products: fresh cranberries, canned cranberry sauce, Stove Top stuffing mix, pumpkin pie filling, yams, turkey bags, basters and lots more…
Where: 194 Rue de Grenelle, 75007 Paris
Tel: +33 (0)1 45 56 98 82 Email: us.food@wanadoo.fr
When: Open 7 days per week 10am-8pm
---
The wholesale giant will be stocked with:
5kg and 8kg turkeys
Fresh cranberries, pomegranates and persimmons
Traditional apple and pumpkin pies
American style dinner rolls and more…
Where: 3 ave de Bréhat, 91140 Villebon-sur-Yvette
When: Open Mon-Fri 10am-9pm, Sat 9am-9pm
---
Your local butcher or volailler
Visit your local butcher now and order your "dinde". Turkeys in France are smaller than what North Americans are used to. You're lucky if he can provide you with a 5-7kg (11-15lbs) bird. And don't be surprised if the turkey is not exactly as big or small as you ordered. If you know your French butcher well, ask him if he will roast your turkey on the spit for you the day you plan your Thanksgiving dinner. Most likely, he'll be happy to stuff your bird with your homemade stuffing if you bring it to the shop before roasting begins. P.S.: keep this in mind for your Christmas holiday dinner too!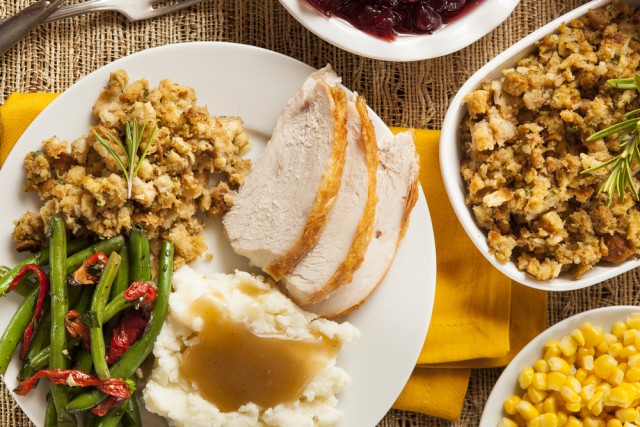 Restaurants serving Thanksgiving feasts in Paris
Prefer to relax and eat out? Here's the scoop on some restaurants in Paris which serve up a Thanksgiving feast.
This hip boutique hotel near the Saint-Ouen Flea Market is introducing a new Thanksgiving tradition to feed your body and soul: the Dailey Thanks Charity Event. Take a dynamic Dailey Method class followed by an organic four-course meal with all the trimmings and provide holiday cheer to those in need. For each class and dinner purchased, one Christmas Day meal will be donated to Every Child is a Gem and the Colette Coulon Maternity Center for Minors.
Where: 4-6 rue Gambetta, 93400 St Ouen
When: Thursday November 22, 2018. Dailey class: 6:30pm, dinner 7:30 pm
_______________________________________________________________________
For a Thanksgiving dinner with a flavorful twist, The Hood is offering a unique menu curated by Khanh Ly, winner of Master chef France in 2015.  Ly will prepare delicious traditional Thanksgiving dishes and introduce you to new flavors, which is one of the things she does best. The Hood Paris is a unique coffeehouse, neb-bistro and events venue bringing together the creative and business communities. Advance booking here.
Where: 80 Rue Jean Pierre Timbaud, 75011 Paris
When: Thursday, November 22, 2018, for lunch (12 noon to 3 pm) and two dinner services (7 pm to 8h30 pm and 8h45 pm to 10h15 pm)
---
For a festive Southern-style down-home meal, complete with specialty cocktails and your choice of pumpkin, apple or pecan pie, head to Treize Bakery near the Jardin de Luxembourg. Everything they serve is made in-house, with organic and free-range ingredients. For Thanksgiving, they are taking advance bookings for the 22nd and the 23rd of November. Let them know when you'd like to come, how many you'll be, and your choice of dessert and they'll send you a paypal request to block your seats (reservations and payment are final).
Where: 5 rue de Medicis, 75006 Paris
When: Thursday November 22, 2018 and Friday November 23, 2018, 5pm-7pm and 8pm-10pm
---
Treat yourself to a 3-course traditional Thanksgiving dinner with 3 optional wine pairings at the exquisite Ô Chateau Wine Tasting and Wine Bar in the heart of Paris. Reserve this homemade holiday dinner and order a selection of premium wines for a special dinner with a French touch.
Where: 68 Rue Jean-Jacques Rousseau, 75001
When: Thursday November 22, 2018, 7pm and 9pm
---
Enjoy a traditional holiday meal in one of Paris' oldest classical American restaurants. An appetizing menu gives a choice of roast turkey, baked ham or grilled marinated tuna steak for the main course. Joe Allen is accepting reservations by EMAIL now for the evening of Thanksgiving.
Where: 30 Rue Pierre Lescot, 75001 Paris
When: Thursday, Nov 22, 2018
---
In the spirit of this holiday, here's a wonderful activity to celebrate the day. Sign up for a cooking class and learn how to prepare an elegant Thanksgiving meal à la française. (Attention: menu includes Cornish hen rather than turkey, but lots of other traditional dishes.) Then enjoy your home-cooked delicacies with newfound friends overlooking the Seine with a glass of champagne.
Where: 80 Quai de l'Hotel de Ville, 75004 Paris
When: Thursday Nov. 22, 2018
---
The all-American diner in the 5th arrondissement is offering three seatings on Thanksgiving day for those far away from home. Reservations by EMAIL only:
Where: 17 rue des Ecoles, 75005 Paris
When: Thursday Nov. 22, 2018, 5pm, 7pm and 9pm
---
RELATED ARTICLES TO GET YOU INTO THE THANKSGIVING SPIRIT: