This year, Thanksgiving Day will be different for all who celebrate this quintessential American tradition around the world. For those in Paris and throughout France, a national lockdown in the time of a COVID-19 pandemic means restaurant dining is closed, travel is restricted to a 1-kilometer distance from home and grocery shopping is limited. Most significantly, a festive table featuring a good old-fashioned turkey with all the fixings is reserved strictly for small gatherings of six.
Let us be thankful that we CAN celebrate Thanksgiving with family, friends and neighbors if we make the extra effort to be safe, supportive, creative and resourceful.
As the fourth Thursday of November draws close, American expats in France can prepare to share their bounty and goodwill. If you are fortunate enough to be planning a turkey dinner, consider organizing with friends and neighbors to each prepare a dish and swap portions (observing health measures, bien sûr). Wondering how your family can consume a bird plump enough to feed 10? Everyone knows of a single friend or family in need that would welcome a packaged Thanksgiving meal delivered to their door this year. Leftovers taste even better the next day in the form of turkey gumbos, sandwiches and soups.
To help you keep the spirit of Thanksgiving alive, INSPIRELLE is elated to feature the community associations, caterers, bakers and restaurants in Paris offering special Thanksgiving meals leading up to November 26, 2020. Get inspired with our tantalizing roundup from where to buy your bird to community care packages or holiday menus for take-out or delivery!
Where to buy your turkey
Call them now or email to order (up until the day before):
Delicious, juicy, farm-bred turkeys (you can ask them to roast it for you, too – comes with stuffing and the roasting juices)
Pecan and pumpkin pies, carrot cakes and cheesecakes
Large selection of Thanksgiving products: fresh cranberries, canned cranberry sauce, Stove Top stuffing mix, pumpkin pie filling, yams, turkey bags, basters and lots more…
Where: 194 Rue de Grenelle, 75007 Paris
Tel: +33 (0)1 45 56 98 82 Email: us.food@wanadoo.fr
When: Open 6 days per week 11 am-7 pm. Closed Monday
The wholesale giant will be stocked closer to Thanksgiving week with:
5kg and 8kg turkeys
Fresh cranberries, pomegranates and persimmons
Traditional apple and pumpkin pies
American style dinner rolls and more…
Where: 3 ave de Bréhat, 91140 Villebon-sur-Yvette
When: Open Mon-Fri 10 am–9 pm, Sat 9 am–9 pm
Your local butcher or volailler
Visit your local butcher now and order your dinde. Turkeys in France are smaller than what North Americans are used to. You're lucky if they can provide you with a 5-7 kg (11-15 lbs) bird. And don't be surprised if the turkey is not exactly as big or small as you ordered. If you know your French butcher well, ask if they will roast your turkey on the spit for you the day you plan your Thanksgiving dinner. Most likely, they'll be happy to stuff your bird with your homemade stuffing if you bring it to the shop before roasting begins. P.S.: keep this in mind for your Christmas holiday dinner too!
Learn how to prep a perfect turkey here or bake a pumpkin pie in France with local products.
Community Thanksgiving Meals in Paris
Due to the COVID-19 health restrictions, the American churches and some American community groups are unable to host their usual sit-down Thanksgiving meals this year.
It is with deep gratitude that we salute the generous efforts of FUSAC, one of the oldest sources of information for expats in Paris, founded by John and Lisa Van der Bos.
To ensure that everyone gets a taste of turkey this year, FUSAC magazine, in partnership with Bill and Rosa's Book Room is offering a free takeaway Thanksgiving collation to anglophones and anglophiles of the Paris region.
This Taste of Thanksgiving, for takeaway only, includes a single portion of homemade Turkey Waldorf salad with cranberries, a dinner roll and a slice of pumpkin, apple or pecan pie. Available on three consecutive days Noon to 7 pm
"That's what Thanksgiving is all about. It's about people coming together to help those that need a little help." – Bill and Rosa
When: Reserve your pick-up of package before November 18th for 1 of 3 dates:
Thursday November 26, Friday November 27, Saturday November 28
Where: Bill and Rosa's Book Room 42 rue du Chemin Vert, Boulogne Billancourt, M° Porte de St Cloud
Cost: FREE
Reservations: online: FUSAC Taste of Thanksgiving
Caterers to do all the good cooking
Why not let a chef prepare your turkey meal with all the delectable fixings? Remember to place your orders by the deadlines to ensure your order is confirmed.
A favorite caterer to Paris' international community, Janine Springall of l'Assiette de Paris, offers an amazing Thanksgiving menu featuring a choice of a roasted citrus mustard turkey breast stuffed with apricots, cranberries and pecan stuffing or a herb-roasted Turkey with Pinot noir gravy, traditional herbed stuffing, cranberry sauce, choice of vegetable side dishes and traditional pumpkin or pecan pie.
Where: Delivery or pickup at 200 rue de la Verte Salle, 78630 Orgeval
When: Order by November 21, 2020
Cost: TBD upon order
Reservations: online: Cook in Paris
Jennifer Harting Lepoutre's baked breads and pastry creations for France's first 100% Gluten-free restaurant Noglu helped propel this establishment to fame in Paris.
A chef, author and cooking teacher, Lepoutre offers a savory and sweet 3-course Thanksgiving meal that includes a roasted turkey with apple, prunes and shallot stuffing, an assortment of side dishes including a cheddar and truffle gouda Mac n' Cheese and gluten-free and lactose-free desserts if so desired.
Where: Atelier L Paris X Farfelu, 61 rue des Trois Frères, 75018 Paris (Metro Abbesses)
When: Delivery November 26-29, 2020 for 15€ or pick-up between 12h-14h
Cost: 25 euros per person
Reservations: by email: Jenni.atelierLparis@gmail.com or telephone: +33 (0)7 66 02 61 08
Joyous Food comes to your home and your kitchen with pre-prep or prepared meals for you and your family! You can order a Thanksgiving prepared feast complete with wine or champagne (extra charge) and can customize your dishes to special diets.
Where: Pick-up or delivery at 10€ available.
When: Order by November 20, 2020
Cost: 45€
Reservations: by email: joyousfoodparis@gmail.com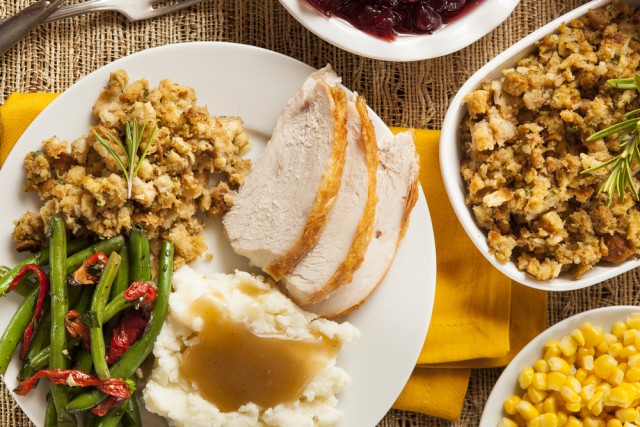 Restaurants offering Thanksgiving feasts to go in Paris
You don't have to cook a turkey to enjoy one! Here's the scoop on some great restaurants in Paris which are preparing a Thanksgiving feast for take-out or delivery.
Iconic bakery owner Laurel Sanderson says she is really sad not to receive Parisians with her at Treize this year, but she and her staff  WILL be doing individual thanksgiving plates with the same excitement. Order their organic quail, herby stuffing, mushroomy gravy, broccoli brillat gratin, sweet potato crumble, duck fat potatoes and a biscuit or cornbread through Uber eats (36€) or for pickup (28€), plus pecan pie and thanksgiving cheesecake (9€), and receive the bounty with their Thanksgiving playlist and so much love! Treize is famous for its home-made lunch meals using free-range and organic products.
Where: Treize Bakery, 5 rue de Medicis, 75006 Paris (near Luxembourg Gardens)
When: Thursday, November 28, 2019, and Friday, November 29, 2019
Reservations: Contact your favorite lunch ladies on their old school landline +33 (0)1 43 29 80 24 to reserve (or just to say hey!)
This hip neighborhood coffee shop and Asian canteen is run by the talented young team, Pearlyn Lee and Masterchef France winner Khánh-Ly Huỳnh.
The Hood Paris is offering a Thanksgiving special, with a twist on some of their signatures currently offered. Treat yourself to an unforgettable fusion feast packaged with roasted chicken and char siew, mixed Chinese vegetables, heartwarming soup and other treats. Wine included. They deliver across Paris and in the 92, 93 and 94 suburbs.
Where: The Hood Paris, 80, rue Jean-Pierre Timbaud, 75010 Paris
Pick-up or delivery Thursday to Sunday (26 Nov to 29 Nov), 17h-19h
NOTE: Limited portions available so order early
When: Pre-order as of Sunday, November 22 at 6 pm until 24 hrs prior to delivery
Cost: 200 euros Thanksgiving menu Serves 4 to 6 persons, inclusive of delivery. 180 euros for pick up
Reservations: online: The Hood
Enjoy a traditional packaged holiday meal from Verjus, a top-notch French restaurant run by an American couple. An appetizing menu gives a choice of turkey confit, homemade mashed potatoes, brussel sprouts, gravy, cornbread and cranberry sauce with apple or pumpkin pie.
When: Order in advance
Where: 52 rue de Richelieu, 75002 Paris pickup; delivery possible in Paris
Cost: 50€ per person. Plus wine if ordered.
Reservations: by email: verjusparis@gmail.com or telephone: +33 (0)1 42 97 54 40
This popular all-American diner continues its tradition of serving up a Thanksgiving meal for the 18th straight year — for takeout or delivery this year. Each to-go box contains: roasted turkey, mashed potatoes and gravy, stuffing, glazed sweet potatoes, green beans and cranberry sauce. All for just 19.95€! Plus delivery charge, if applicable.
Where: 4, rue Mahler, 75004 Paris
When: Order and pre-pay early; then pick-up between 10 am to 3 pm daily except Tuesday. If delivery required, arrange when ordering.
Cost: 19.95 euros for a Thanksgiving box. Desserts and drinks extra.
Reservations: Order by phone: 0142724021. Hurry! Limited supply.
Treat yourself to a dégustation or wine tasting of six wines to make your traditional Thanksgiving dinner memorable. Ô Chateau Wine Tasting and Wine Bar in the heart of Paris will deliver to your home a selection of six premium wines in 6 cl servings: Sancerre 2018, Chablis 2017, Saint Emilion Grand Cru 2014, Pays D'Oc 2017, Châteauneuf du Pape 2017 and Rivesaltes. For online orders, benefit from digital support for the wine tasting and access to a sommelier to answer your questions.
Where: 68 Rue Jean-Jacques Rousseau, 75001
When: Order now
Cost: 59€ per package
Reservations: online: O Chateau or telephone: +33 (0)1 44 73 97 80
Special Thanksgiving treats!
INSPIRELLE partner Jean Hwang Carrant offers special cookies for November: turkey-shaped sugar cookies and cookies with a pumpkin glaze. Discover her collection of extraordinary cookies and her inspiring story.
When: now until Thanksgiving
Where: Jean Hwang Carrant Cookies, 84 rue d'Aboukir, 75002 Paris
Cost: 24€ for a dozen, plus delivery charge
Reservations: ASAP by telephone: +33 (0)1 42 33 67 38   
On top of their fabulous selection of unique homemade doughnuts, Boneshaker has special treats for November that include Pumpkin Pie Creme Brulée, Cranberry, Chocolate, Walnut Praline, and Maple Syrup Pumpkin Cake Doughnuts. They also have cans of pumpkin purée for sale. Read about Amanda Bankert's love affair with doughnuts here.
When: Order now for pick up the next day
Where: 77, rue d'Aboukir, 75002 Paris
Cost: Depending on donut and size of order
Reservations: online: Bonekshaker Order or by telephone: +33 (0)1 45 08 84 02
Join Cordon Bleu-trained American pastry chef MollyJWilk in her charming kitchen in Versailles, from the comfort of your own kitchen, and learn the French method to bake a "No Fear Pie Crust" for your favorite pie filling! Virtual classes (via Zoom) on November 19th and 24th are perfectly timed for pre-Thanksgiving preparations. We guarantee she'll make it fun and easy for you! Read about Molly's journey to becoming a French pastry chef here.
When: November 19 & 24, 2020 from 7pm – 7:45pm
Where: Online via Zoom
Cost: 15€ (INSPIRELLE members get 15% off with your discount code)
Register: on her website HERE 
---
RELATED ARTICLES TO GET YOU INTO THE THANKSGIVING SPIRIT: