Plenty of activities for everyone this week! Celebrate the work of LGBT artists, support photojournalism or learn to start your own business. Don't forget that Chinese New Year festivities begin this weekend!
Inclusive Creative Culture
The second edition of the Festival of Cultures LGBT is the chance for everyone to discover the vibrant cultural work of the lesbian, gay, bisexual and transgender community in Paris. With over 25 events in 20 days, the festival brings together exhibitions, conferences, concerts, films, performances, meet-ups and more throughout the city of light. The perfect way to celebrate Paris' rich and diverse artistic community.
When: January 27 – February 19, 2017
Where: 10 locations throughout Paris. Check here for program.
Photo auction speaks volumes
Are you a photo collector? Interested in current affairs? 50 of the world's top news photographers are placing their award-winning photos on sale in a public auction at Rossini's in Paris. Organized by NOTHING Magazine, "ça-voir" presents 150 photographs capturing historical moments in time, on display as of Friday, January 27 and open to all before the auction on Sunday. Support photojournalists and admire their work. For a preview of the photos on display and more info, read here.
When: Vernissage Friday, January 27, 2017. Auction on Saturday, January 28 starting at 2pm
Where: Rossini Auction House, 7 rue Drouot, 75009 Paris
One stop resource for start-ups
Starting your own business in France can be daunting, with all the rules, regulations, paperwork and markets to consider. Luckily, you can find the answers to all your burning questions under one roof at the Salon des Entrepreneurs. The biggest entrepreneur fair in Europe, the Salon brings together experts, services, and practical information with over 300 stands and 200 workshops, conferences and lectures on everything from technology to international strategy to networking. A wealth of information is waiting for you.
When: February 1 – 2, 2017
Where: Palais des Congres, Porte Maillot, 75017 Paris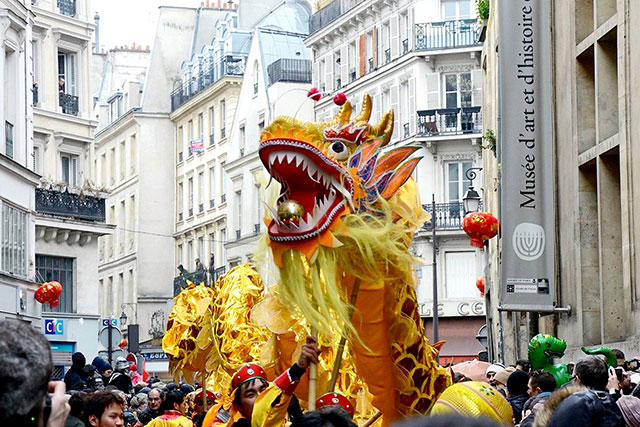 Ring in the Chinese New Year à la française
Get ready to celebrate the Year of the Chinese Fire Rooster in Paris! The rooster or chicken signals the sign of dawn and awakening; the symbolic animal is a hard worker, meaning triumph and success can only be achieved by diligence and patience in 2017. Enjoy the benefits of the new lunar year and partake in the fun celebrations in different neighborhoods organized by Paris' Chinese and Asian communities.
Plus find great eateries in INSPIRELLE's roundup of favorite Chinese restaurants.